Follow Us...
St. Patrick Blog
Upcoming Events
Quick Links
Mass Schedule
Weekend

Saturday
4:30 pm
Sunday
8:00 am
10:45 am
5:30 pm

Weekday

Monday
Tuesday
Wednesday
Thursday
Friday
5:15 pm
No Mass
5:15 pm
5:15 pm
8:30 am

Confessions

Monday

Wednesday
Thursday
Friday
Saturday
Sunday
4:30-5:00 pm
6:00-6:30 pm
4:30-5:00 pm
4:30-5:00 pm
12:00-1:00 pm
3:30-4:15 pm
7:15-7:45 am

Holy Days

See Bulletin
Weekly Bulletins
Reflections
The Mass
Oremus
Seven Pillars
Easy Giving Program

The January school lunch menu can be found HERE.

December 12, 2014 Announcements


Click HERE for December 12, 2014 Announcements

Soccer Shots January 2015


Click HERE for Soccer Shots

January 10, 2015 Potluck Supper


Click HERE for Potluck Supper flyer


Click HERE for Silent Auction Wish List


Click HERE for Silent Auction

Order Form for Used Uniform Room


Click HERE for Order Form for Used Uniform Room

2014-2015 School Calendar


click HERE for 2014-2015 school calendar

Our newly renovated Parish Library is located in the rear of the school cafeteria. You may borrow books, DVDs or CDs. Just sign out what you are borrowing and return it in a timely fashion when you are finished so that others may have access to our treasures. If you cannot make it to the cafeteria, there will be a list of our books on the parish website and in the back of the church. We hope that you make good use of the library to grow in your knowledge and love of our faith. Also, all donations of books, etc., are always gratefully accepted! For questions or comments, contact Sue Varholy at 854-6653.


Click HERE for a list of our current selections.

The Lunch Order Forms can be found HERE.

Religious Education Registration
Click HERE for more Religious Education information.
2014-2015 Back to School Information
Please Click HERE for the Principal's Back to School Letter
Please click HERE for the General Information Memo.
Please click HERE for the Student Emergency Form.
Please click HERE for the Transportation Home Form.
Please click HERE for the Arrival and Dismissal Diagram.
Please click HERE for the Student Release Form.
Please click HERE for the Uniform Policy.
Please click HERE for Extended Day Policies.
Please click HERE for Extended Day Registration.
Please click HERE for the Extended Day Release Form.
Interested in learning more about the Catholic Church?

RCIA (Rite of Christian Initiation for Adults) provides a process for people who wish to investigate more fully the teachings of the Catholic Church.
Soon we will be gathering for our fall session of RCIA.
You may be married to a Catholic, or someone who has always wondered about Catholics or someone who is considering becoming a Catholic. Anyone with an interest is warmly welcomed. You assume no obligation by attending these sessions.
Please call or email Sue Varholy in the Rel Ed office (854-6653) (svarholy@stpatrickyork.net) if you are interested in joining us or have any questions.
2014-2015 Student Supply Lists
All students will receive a box of school supplies which will be covered by the $30 school supply fee to be paid on or before the first day of school.
Some school supplies are to be purchased by families.
Click HERE for student supply lists for the 2014-2015 school year.
SPRING Edition of The Shamrock Newsletter Available
Click HERE for the latest edition of The Shamrock - the St. Patrick Catholic School Newsletter
Grade 3 Students Featured in the News
Mrs. Moyar and our Third Grade Students were featured on the front page of the York Daily Record on Tuesday, February 18, 2014.
Click HERE to see the article & video
''Together We Can'' Provide Quality Catholic Education for our Children
"Together We Can Do Great Things"
Thank you to ALL who helped to make our celebration of Catholic Schools Week so wonderful!
It was a true testament to the family spirit that exists among our students, staff, and families.
In the coming weeks, letters that students wrote expressing their gratitude for the gifts and blessings
of our school will be published on the website and in the parish bulletin.
St. Patrick Catholic School truly is "a collaborative ministry of the parish and school community".
"Together we can"...provide our children with quality Catholic education...that IS a great thing!
No family, truly desiring a Catholic education for their child(ren) is turned away from our school.
This is possible because of the tremendous prayerful and financial support received from our Parish Family.
Let us pray in gratitude for this commitment to the future of our children!
Catholic Schools Week - Class Color Day
Catholic Schools Week - Class Color Day was so much fun! Click HERE to see each class. They are GREAT looking kids!
Pope Francis' Exhortation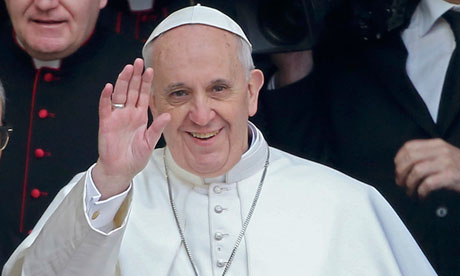 Click HERE to download and read Pope Francis' Exhortation, "A Joy Ever New, A Joy Which is Shared".
A great document to read in pieces during Advent in preparation for Christmas!


Catholic Education - A Home/School Partnership
The education of a student is a partnership between the family and the school. Families enrolling their children in St. Patrick Catholic School are expected to:


Want their children to receive an education with a strong religious emphasis.

Be willing to make sure their children are on time and ready for school each day.

Attend all school related meetings, events, and report card conferences.

See that their children are present for special events such as the Christmas Concert, Spring Concert, and other community events.

Speak, act, and dress MODESTLY

Attend Mass on Holy Days of Obligation.

Receive the Sacraments on a regular basis.

Meet with teachers and administration when requested.

Be respectful and cooperative with school staff.

Support and follow school policies.

Remain current in tuition and all other school related fees.

Participate in fundraising activities.

Meet parent service requirements.

Understand that a parent / guardian's presence and participation in a child's school life is critical to his / her success and growth.


The parent has the right to withdraw a child if desired and the school administration reserves the right to require the withdrawal of a student if the administration determines that the partnership is irretrievably broken.

Responsible self-discipline in students is another key to quality education. All members of the school community are expected to practice Christian behavioral techniques and attitudes to model this for our children.



How best to communicate when there is a problem, concern, complaint?



· Calmly gather facts from those who have firsthand information. Suggested questions: What did you see? What did you hear? Who did you see/hear? If the name is not known: What did the person look like? When did this happen? Take notes if it is helpful to keep the facts factual.

·Avoid jumping to conclusions.

·Avoid speaking about the matter in the presence of your child/ren or other children.

·Avoid E-mailing and texting

·Avoid chatting about a concern in public places.

·Avoid leaving voice mails that are loud and angry. Better to indicate a need for conversation, including your name and phone number/s. Indicate the urgency of the matter.

·Avoid approaching the principal, teacher or staff member while they are engaged in some other activity or conversation.

·Indicate calmly the need you have to speak privately about the matter or concern and recognize that that particular time may not allow the full attention of the person to whom you are addressing the matter and thus there may be a delay before being able to discuss it.

·Realize that there are always at least two sides to every story.

·Agree to disagree agreeably.
Guatamala Trip Photo Gallery
Click HERE for the Guatamala Trip Photo Gallery.
Plastic Bag Collection to Support Catholic Harvest Food Pantry
Plastic grocery bags continue to be collected at St. Patrick Catholic School for Catholic Harvest Food Pantry.

Plastic bags may be sent to the school office at any time!
St. Patrick Catholic School is again this year offering Birthday Books for students wishing to celebrate their birthday in school. In past years, the money donated for Birthday Books has purchased several hundred dollars' worth of books for our school library.

If you are looking for a special way to recognize your child's birthday, I hope you will consider a Birthday Book. Just send in $10 to school in an envelope marked "Birthday Book" on your child's birthday or shortly before.

Ms. Keffer has a selection of new books set aside in the library, where your child selects a book. A bookplate with your child's name and birth date is placed in the front of the book. The classroom teacher may read the book to the class (in the lower grades), and the student has two weeks to keep the book before it becomes part of the library collection. This is a wonderful way to bring special recognition to your birthday child, as well as encouraging a love of reading.
St. Patrick School Spirit Items
The PTO has purchased spirit items to sell as a way to show our school pride.
Available items include:
Baseball Caps $5
Cinch Saks $3
Water Bottles $3
Pens $1, Pencils $.25
There are a limited number of fleece blankets, and socks available from previous orders.
The blankets are $10 and the socks are $2/pair or 3 pair for $5.

Orders may be sent to school with children.
Please place money in an envelope and indicate which items are to be purchased.
COLUMBIETTES: We Share, We Care, We Serve
The Cause of Canonization of Mother Mary Lange
Promote the cause of canonization of Mother Mary Lange, founder of the Oblate Sisters of Providence. If interested in joining our local chapter, please contact Kathi Stayman at
kstayman@yahoo.com
or click
HERE
for more information.
Every Wednesday after the 5:15 Mass.

All are Welcome.
Pastoral Music - Your Time and Talent... our Treasure!
We are ready to begin a new season of all Pastoral Music groups. Click
HERE
to visit our Pastoral Music section for complete information and our online Registration Form. We offer opportunities for all ages! If you have questions feel free to contact Libby in the Pastoral Music Office at 845-4907 or
pastoralmusic@stpatrickyork.org
.

As mentioned by Fr. Cawley, during the Masses on May 16, 2010, below is a link to Our Lady of Kibeho: Mary Speaks to the World from the Heart of Africa, on Amazon.com.

Go to Book on Amazon.com