Find Us...
St. Patrick Blog
Upcoming Events
Quick Links
Mass Schedule
Weekend

Saturday
5:30 pm
Sunday
7:30 am
9:00 am
11:00 am
5:30 pm

Weekday

Monday
Tuesday
Wednesday
Thursday
Friday
5:15 pm
No Mass
5:15 pm
5:15 pm
8:30 am

Confessions

Monday

Wednesday
Thursday
Friday
Saturday
4:30-5:00 pm
6:00-6:30 pm
4:30-5:00 pm
4:30-5:00 pm
12:00-1:00 pm
4:00-5:00 pm

Holy Days

See Bulletin
Weekly Bulletins
Reflections
The Mass
Seven Pillars
Easy Giving Program
Saint of the Day
March Virtue Recognition - Justice
Congratulations to our students and staff recognized for their practice of the Virtue of Justice in the month of March:
Kindergarten - Vincent Cialini
First Grade - Sarah Giesselbach
Second Grade - Ryan Musso
Third Grade - Charlotte Bova
Fourth Grade - Moseley Driscoll
Fifth Grade - Anthony Ehrbar
Sixth Grade - Jaideci Torres
Staff - Mrs. Shanko
Our Virtue for the month of April is Modesty!
Spring has sprung at S. Patrick Catholic School. Second grade students planted flowers at the front entrance of the building!
St. Patrick Catholic School Summer Program
Registration Forms for St. Patrick Catholic School Summer Program are now available! We will offer 4 weeks of programs partnering with Martin Library, Soccer Shots, Science Explorers, DreamWrights, Briscks4kidz, and The Byrnes Health Education Center for students who have completed grades K-3. You may register for one, two, three or ALL four weeks. Each week will run Monday-Thursday from 8:00 am - 3:00 pm. The cost per child per week is $50. Space is limited so please register early! Registration will be opened to the other local Catholic schools in mid-April.
Click HERE for the brochure/registration form.
The 2014-2015 - School Calendar
Please click HERE
for the 2014-2015 school calendar

The April School Lunch Menu is available HERE.

Summer Solution Skill Books
It is time to begin to think about Summer Solutions.
The skill books recommended by our teachers to assist students in maintaining acquired skills over the summer.
Please contact your child's homeroom teacher for specific recommendations.
Click
HERE
for ordering information
St. Patrick Students will sing the National Anthem at The York Revolution
It is time to mark your calendar for our evening at York Revolution to Sing The National Anthem! This is a great honor as well as a fun community night!
Mark your calendar now for Monday, June 9th.
Ticket order forms will be sent home later in the spring!
SPRING Edition of The Shamrock Newsletter Available
Click HERE for the latest edition of The Shamrock - the St. Patrick Catholic School Newsletter
Snow days have made it necessary for us to adjust our school calendar to ensure that we have 180 school days.
Click HERE for the Adjusted School Calendar
Spiritual Bouquet for Bishop Gainer
All of the diocesan schools are putting together a Spiritual Bouquet of Acts of Service and Prayer
for Bishop Gainer on the occasion of his installation as the 11th Bishop of the Diocese of Harrisburg.
St. Patrick Catholic School students will be participating in the Pregnancy and Family Resource Center's "Change for Life" Program.
In addition Bishop Gainer will be remembered in our prayers during our Parish Forty Hours Eucharistic Devotions.
Students will attend Mass on March 17th & 18th and spend an age appropriate amount of time in prayer before the Blessed Sacrament
All forms for Race for Education may be accessed by clicking the links below:
For the Instruction Letter Click HERE
For the Checklist Form click HERE
For the Nickname Sheet click HERE
For the Prize & Award List click HERE
Grade 3 Students Featured in the News
Mrs. Moyar and our Third Grade Students were featured on the front page of the York Daily Record on Tuesday, February 18, 2014.
Click HERE to see the article & video
St. Patrick Catholic School Students Express Gratitude
Students from St. Patrick Catholic School wish to express their gratitude for the blessings of a Catholic Education.
Click HERE to read letters written by students during Catholic Schools Week 2014
While there may be spelling or grammatical errors, the children express from their hearts the blessings of a Catholic education.
''Together We Can'' Provide Quality Catholic Education for our Children
"Together We Can Do Great Things"
Thank you to ALL who helped to make our celebration of Catholic Schools Week so wonderful!
It was a true testament to the family spirit that exists among our students, staff, and families.
In the coming weeks, letters that students wrote expressing their gratitude for the gifts and blessings
of our school will be published on the website and in the parish bulletin.
St. Patrick Catholic School truly is "a collaborative ministry of the parish and school community".
"Together we can"...provide our children with quality Catholic education...that IS a great thing!
No family, truly desiring a Catholic education for their child(ren) is turned away from our school.
This is possible because of the tremendous prayerful and financial support received from our Parish Family.
Let us pray in gratitude for this commitment to the future of our children!
Catholic Schools Week - Class Color Day
Catholic Schools Week - Class Color Day was so much fun! Click HERE to see each class. They are GREAT looking kids!
Catholic Schools Week 2014 at St. Patrick Catholic School
Please consider joining the students and staff of St. Patrick Catholic School as we celebrate the great legacy of Catholic education in our parish.


Click HERE for a complete list of events.
Penn State Raffle Winners
Congratulations to Joseph & Richel Papapietro, winners of our Raffle to see Penn State play next August in Ireland.
Pope Francis' Exhortation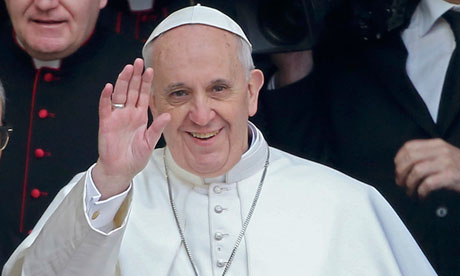 Click HERE to download and read Pope Francis' Exhortation, "A Joy Ever New, A Joy Which is Shared".
A great document to read in pieces during Advent in preparation for Christmas!


Catholic Schools Week 2014
The theme for the National Catholic Schools Week 2014 is "Catholic Schools: Communities of Faith, Knowledge and Service." The annual observance starts the last Sunday in January and runs all week, which in 2014 is January 26 to February 1.
According to the NCEA, the 2014 theme was developed in response to member requests for a theme and logo that would last more than a year, the new theme will be used for at least three years. This will provide opportunities for schools to brand the week and their ongoing marketing activities with repeated mentions and use of a consistent logo. It's especially appropriate that this new brand will mark National Catholic Schools Week 2014 – the 40th anniversary of this annual event.
The theme encompasses several concepts that are at the heart of a Catholic education. First, schools are communities—small families in their own right, but also members of the larger community of home, church, city and nation. Faith, knowledge and service are three measures by which any Catholic school can and should be judged.
The new logo features a swirl of colors interacting around a cross, which is at the center of all Catholic education. The vibrancy of the colors and the movement and shadows in the logo portray the inner-connectivity and community life that are present in our Catholic schools.
For our third and fourth grade students participating in Envirothon on Mondays, the dates for Envirothon meetings can be found HERE. Please note that Envirothon will now meet on Monday, April 21st as school WILL be in session.
A Message from Mr. Joe Stein, SPCS Board President
This past weekend I volunteered to speak at all of the weekend masses about the SCRIP program. I would ask that you please read my thoughts on this matter as support of this program is imperative to help reduce the operating costs of the church and school which in turn keeps tuition costs down.
By purchasing SCRIP (gift cards) through St. Patrick to do things you are already doing such as buying groceries, buying gas or going out to eat, you can generate money for the church and school. At the masses I showed a perfect example. By buying SCRIP for Wal-Mart, my weekly grocery purchase of $170 generated $4.25 for the church/school. In one year's time, my contribution to the church/school increases by $221.00 simply by paying for my groceries with SCRIP. If I shopped at Weis, that amount would double. Now add in gas purchases, dining out etc.. and the proceeds add up quickly.
There are over 1,100 families in our church and school community. If 500 families purchased $75 in SCRIP per week, to do things they are already doing, the church would receive almost $100,000.00! This is not an additional $75, it is $75 already in your budget.
Parishioners are encouraged to buy SCRIP to help support the church which does very much support the school; school families are asked to purchase SCRIP to support both! 50% of proceeds from school families' purchases goes to the church, but the other 50% goes to a program of your choice. As a brief example, you can designate 50% to go to the school's art or music programs, or that money could go to social events or field trips. Please see the attached order form for the full list. You may think that by not directly receiving a tuition credit, the program is not worth your while. But on the contrary, helping to generate money through SCRIP ensures that tuition increases are not necessary to cover these programs'expenses.
As we approach this holiday season, I would like you to please consider buying SCRIP. Give it a try, you have nothing to lose. Available online, the number of retailers is six sheets long with three columns per page of local and national retailers. The amount returned to the Church/School ranges from 2% to 25%! If you give gift cards as a present, buy them as SCRIP. Going to buy a present for co-worker, family member or friend? Buy SCRIP first then make the purchase. SCRIP can be used to make online purchases! It only takes a few moments to register.
SCRIP is available after all weekend masses except Sunday evening. The SCRIP office, located in Brenner Hall, is open Monday and Friday 8 a.m. until 11 a.m. Orders can be submitted via order form, phone or email. Cash or check is due upon pickup. SCRIP can be purchased online using PayPal as well. It only takes a few moments to register.
At the conclusion of this presentation at the weekend masses, parishioners were given a chance to write down on a note card why they choose not to utilize this simple yet beneficial program. I would ask you to do the same. Please email the SCRIP office with the reason why you don't use the program. Our SCRIP staff is very flexible and will work to meet your needs. If you have a suggestion on how to improve the program, one that would allow for you to purchase SCRIP, please feel free to pass it along. Please contact
scrip@stpatrickyork.net
Thank you for your time.
Sincerely,
Joe Stein
SPCS Board President
2013-2014 Student Council Elected
Congratulations to the 2013-2014 Student Council
President - Abigail Brenneman
Vice-President - Benjamin Curtis
Treasurer - Sean McKeague
Secretary - Annika Stewart
Historian - Ryan Shanko




FREE Money for Our School - Giant A+ Bonus Card Registration
It is time to register your Giant Bonus card for the 2013-2014 school year to earn free money for our school. Cards may be registered at www.giantstores.com/aplus using our school code: 01206 or by contacting the school office and providing us with your bonus card information.
Last Year we earned $2,000. Let's work together to increase the number of cards registered which will result in an increase in money to our school.
Giant A+ money was used to assist with the new carpeting in the Library.
Catholic Education - A Home/School Partnership
The education of a student is a partnership between the family and the school. Families enrolling their children in St. Patrick Catholic School are expected to:


Want their children to receive an education with a strong religious emphasis.

Be willing to make sure their children are on time and ready for school each day.

Attend all school related meetings, events, and report card conferences.

See that their children are present for special events such as the Christmas Concert, Spring Concert, and other community events.

Speak, act, and dress MODESTLY

Attend Mass on Holy Days of Obligation.

Receive the Sacraments on a regular basis.

Meet with teachers and administration when requested.

Be respectful and cooperative with school staff.

Support and follow school policies.

Remain current in tuition and all other school related fees.

Participate in fundraising activities.

Meet parent service requirements.

Understand that a parent / guardian's presence and participation in a child's school life is critical to his / her success and growth.


The parent has the right to withdraw a child if desired and the school administration reserves the right to require the withdrawal of a student if the administration determines that the partnership is irretrievably broken.

Responsible self-discipline in students is another key to quality education. All members of the school community are expected to practice Christian behavioral techniques and attitudes to model this for our children.



How best to communicate when there is a problem, concern, complaint?



· Calmly gather facts from those who have firsthand information. Suggested questions: What did you see? What did you hear? Who did you see/hear? If the name is not known: What did the person look like? When did this happen? Take notes if it is helpful to keep the facts factual.

·Avoid jumping to conclusions.

·Avoid speaking about the matter in the presence of your child/ren or other children.

·Avoid E-mailing and texting

·Avoid chatting about a concern in public places.

·Avoid leaving voice mails that are loud and angry. Better to indicate a need for conversation, including your name and phone number/s. Indicate the urgency of the matter.

·Avoid approaching the principal, teacher or staff member while they are engaged in some other activity or conversation.

·Indicate calmly the need you have to speak privately about the matter or concern and recognize that that particular time may not allow the full attention of the person to whom you are addressing the matter and thus there may be a delay before being able to discuss it.

·Realize that there are always at least two sides to every story.

·Agree to disagree agreeably.
Curriculum Partnership with The Byrnes Health Education Center
St. Patrick Catholic School will partner with the Byrnes Health Education Center to provide programming for our students in first through sixth grades as well as a parent program. The schedule of programming for the year is as follows:

Sepetember 24 - Five Men Up & In Her Shoes (Grades 5 & 6 Anti-Bullying Programs)

September 25 - True Colors: You Make a Difference (Grades 3 & 4 Character Development)

October 23 - The Talk:101 (Parent ONLY program how to talk to your child in an age appropriate way about human sexuality)

February 11 - Way to Grow (Grade 2 Health)

February 12 - Great Whites (Grade 1 Dental Health)

March 25 - Cells to Systems (Grade 4 Science)
March 25 - Fueling My Special Body (Grade 3 Health)

April 1 - Drugs: What's the Big Deal (Grades 5 & 6 Health)
Free and Reduced Lunch Application
Families whose children qualify for Free or Reduced Lunch pricing through direct certification have been sent letters of notification. If you have not received a letter but feel that your child may qualify for this special pricing please click on the link below for information and an application. Please submit your application to the school office at your earliest convenience.

Please click HERE for the information and application.

2013-2014 Faculty & Staff List
St. Patrick Catholic School 2013 - 2014 Faculty & Staff List


Click
HERE
Please note that Mr. Curtis Henning will be the long term substitute in fifth grade until Mrs. Sartiano returns in November.
2013-2014 Complete Supply Lists by Class


Individual class supply lists may be obtained by clicking on the link below. Please note that supplies provided by the school are purchased with a flat $30 supply fee to be sent to school on or before the first day (August 21st). Third grade students have an additional fee for a recorder and book for music class. Please see grade 3 supply list below for details.


Kindergarten Complete Supply List click HERE

Grade 1 Complete Supply List click HERE

Grade 2 Complete Supply List click HERE

Grade 3 Complete Supply List click HERE

Grade 4 Complete Supply List click HERE

Grade 5 Complete Supply List click HERE

Grade 6 Complete Supply List click HERE


2013-2014 School Calendar and Handbook
St. Patrick Catholic School Handbook
click
HERE
St. Patrick Catholic School 2-13-2014 School Calendar
click
HERE